Spotlight on Test Utilization: Advancements in Biomarker Testing—Evolution of Immunotherapy Testing
Originally published on January 1, 2021
---
Lecture Presenter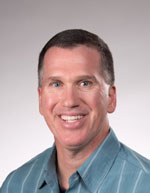 Larry Meysing
Biomarker Specialist
National Biomarker Testing Team
Genentech, Inc.

Larry Meysing is a Biomarker Specialist with Genentech's National Biomarker Testing Team (BTT). His role is to provide education related to biomarker testing and supporting testing guidelines. Larry has dual degrees in business and began his healthcare career as a Director of Diabetes Services for a healthcare network. He transitioned into pharmaceuticals and was promoted to an Oncology Specialty role. His passion for Oncology led him to Genentech where he helped found the BTT and his current role.
---
Sponsored by: