Visiting ARUP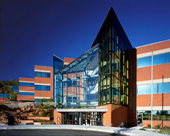 ARUP Laboratories is a University of Utah facility. While we are locally known for our Blood Services and bicycle club, nationally, ARUP is known as a premier clinical laboratory offering human diagnostic services and training for pathology professionals.
More Information
Directions to ARUP Laboratories - how to get to our central facility.
National Reference Lab - see our sister website www.aruplab.com. A reference lab is a clinical lab that performs testing for many other hosptial labs. Over 80% of ARUP's business comes from reference work which includes tests
that are technically complex and/or are esoteric in nature.
ARUP Facilities
Central facility (ARUP Laboratories)
500 Chipeta Way
Salt Lake City, UT 84108
(801) 583-2787

University Hosptial Clinical Laboratory
50 N Medical Drive
Salt Lake City, UT 84132
(801) 581-2430

Huntsman Cancer Hospital Clinical Laboratory
1950 Circle of Hope
Salt Lake City, UT 84112
(800) 585-0234