ARCHIVED: NOT AVAILABLE FOR CREDIT

Hemoglobinopathies: Clinical and Hematologic Features and Molecular Basis

Mutations in the globin genes can result in hemoglobin variants or thalassemias. Generally speaking, variant hemoglobins result from missense mutations in the coding regions of the globin genes, whereas thalassemias result from mutations in regulatory regions (promoter, splice junction, polyadenylation, etc.) and are associated with decrease or total absence of the involved globin gene. Most of these variants are clinically and hematologically inconsequential and can be regarded as polymorphisms; however, a few can lead to a clinical and/or hematologic phenotype. Most of the hemoglobinopathies that cause a clinical or hematologic phenotype are self-limited and do not require therapeutic interventions. The only exception could be certain unstable hemoglobin variants with brisk hemolysis, which may be benefit from splenectomy. The significance of these hemoglobinopathies in clinical hematology derives from the fact that the above-mentioned clinical and hematologic features may need to be considered in the differential diagnosis of hemolytic disorders, erythrocytosis, and methemoglobinemia.
Originally presented September 16, 2011 in Salt Lake City, Utah.
Lecture Presenter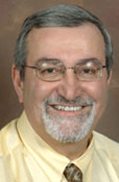 Abdullah Kutlar, MD
Professor of Medicine, Division of Hematology/Oncology, Medical College of Georgia
Director, Sickle Cell Center, Medical College of Georgia

Dr. Abdullah Kutlar is a Professor of Medicine in the Division of Hematology/Oncology and Stem Cell Transplantation and an Associate Professor in the College of Graduate Studies and serves as the Director of the MCG Sickle Cell Center. Dr. Kutlar earned his MD degree from Ankara University Medical School, Ankara, Turkey, in 1971. Following residency and fellowship training in hematology, he focused primarily on red cell disorders including thalassemia and sickle cell disease. He also served as a Research Fellow at the Sickle Cell Center at the Georgia Health Sciences University, in 1982-1983. He returned to the Sickle Cell Center in Augusta in 1984 where he worked in the research laboratories until 1990 under the directorship of the late Professor Titus H.J. Huisman. Because of his expertise and training, Dr. Kutlar was named Director of the Sickle Cell Center In 1994. Under his leadership, the Sickle Cell Center Laboratory has served as a core lab for NIH and pharmaceutical sponsored clinical trials as well as a clinical site for many multicenter, national, and international studies of sickle cell disease.
Dr. Kutlar has served on several NIH review panels, served as a member of DSMB, and serves on the Steering Committee of the Candidate-gene Association Resource (CARE) program of the NHLBI. Dr. Kutlar's research interest in recent years has been in the area of genetic modifiers of SCD and the elucidation of risk factors for various complications. He is also interested in the development of novel therapies and evidence-based recommendations for the treatment of SCD.
Originally presented September 16, 2011 in Salt Lake City, Utah.
Objectives
After this presentation, participants will be able to:
Hemoglobin structure and functional relationships
Clinical and hematologic manifestations of hemoglobinopathies
Molecular mechanisms of clinically significant hemoglobinopathies
Sponsored by:

University of Utah School of Medicine, and ARUP Laboratories