Chemistry
Information in this section is for clinical chemistry, urinalysis, and body fluid analysis portions of the MLS curriculum. These resources can be used to enrich student experiences while studying these disciplines.
To provide feedback or collaborate on developing new content please contact:
Breanna Russell
800-242-2787 ext. 2577
Distance Education Coordinator
ARUP Laboratories
Karen McRae
800-242-2787 ext. 3615
Student Education Coordinator
ARUP Laboratories
Video Lectures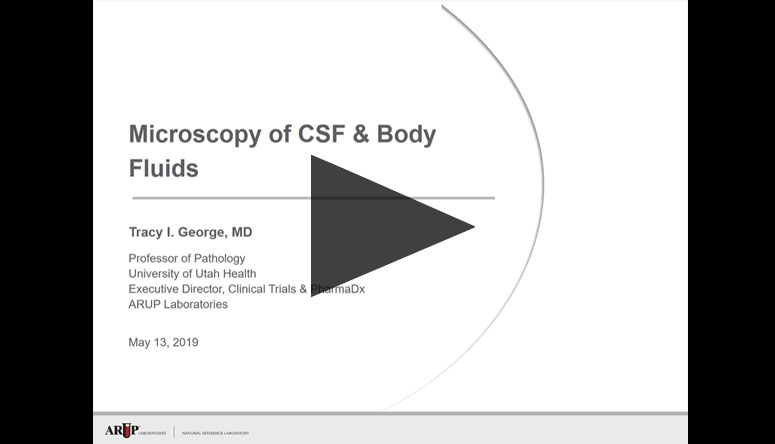 In this lecture Dr. Tracy George focuses on the microscopy of cerebrospinal fluid, pleural fluid, peritoneal fluid, and pericardial fluid. Both normal and abnormal cell types will be shown and features that help distinguish benign from malignant cytology will be discussed. Recommendations for additional ancillary studies will also be explored.
This video is 46m
This short video discusses the development of the fetal lung and risk of Respiratory Distress Syndrome (RDS) for pre-term infants. Dr. Genache also addresses laboratory tests used to evaluate fetal lung maturity in his presentation.

This video is 7 minutes.
In this presentation, Dr. Strathmann briefly discusses the basics of Time of Flight Mass Spectrometry.

This video is 5 minutes.
In this podcast series, ARUP's Technical Product Manager Golden Welch sits down with University of Utah pathology resident Dr. Maggie Hopkins and Dr. Fredrick Strathmann medical director in toxicology at ARUP laboratories and an associate professor in pathology at the University of Utah to discuss analytical methods in toxicology.

This video is 41 minutes.
In this presentation, Dr. Grenache briefly discusses risk stratification in heart failure.

This video is 12 minutes.
In this presentation, Dr. McMillin discusses the roles of the clinical laboratory in pain management.

This video is 12 minutes.
Tutorials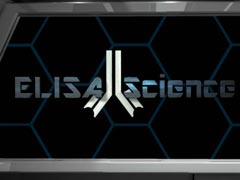 This course describes the Enzyme Linked Immunosorbant Assay (ELISA) testing method used in many analytical tests. Included are descriptions of the testing process and what is being tested. Animations are used to help illustrate what is happening at the molecular level.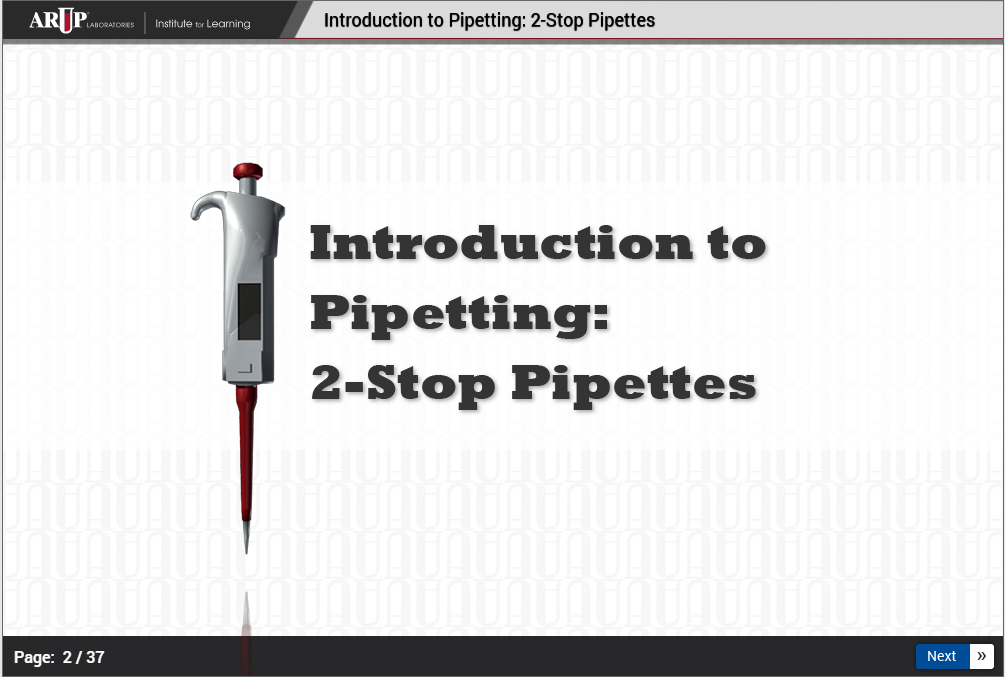 This tutorial provides an introduction to proper pipetting technique for mechanical two-stop pipettes.
---