ARCHIVED: NOT AVAILABLE FOR CREDIT
Newborn Screening for Severe Combined Immunodeficiency (SCID) by Quantifying T-cell Receptor Excision Circles (TREC)
Originally presented on July 19, 2013 in Salt Lake City, Utah.
---
Lecture Presenter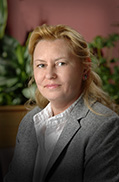 Patricia R. Slev, PhD, D(ABCC)
Co-Medical Director, Immunogenetics
ARUP Laboratories
Medical Director, Serologic Hepatitis and Retrovirus Laboratory
ARUP Laboratories
Assistant Professor, Department of Pathology
University of Utah School of Medicine

Dr. Slev is the medical director of the Serological Hepatitis/Retrovirus Laboratory at ARUP and an assistant professor of pathology at the University of Utah School of Medicine. Dr. Slev earned her PhD in immunology and laboratory medicine from the University of Florida, Gainesville and completed a fellowship in clinical chemistry at the University of Utah. She is board certified by the American Board of Clinical Chemistry. Dr. Slev's research interests are in immunogenetics and pathogen interactions, particularly HIV and viral hepatitis.
---
Objectives
After this presentation, participants will be able to:
Understand the importance of newborn screening for SCID.
Explain why quantifying T-cell receptor excision circles (TREC) is utilized to detect newborns with SCID.
Describe quantitative real-time PCR assay for TREC.
Describe current status of newborn screening for SCID.
Sponsored by:

University of Utah School of Medicine, and ARUP Laboratories