AACC 2017 Booth Presentation: Inborn Errors of Metabolism— The Needle in the Haystack
Inborn errors of metabolism are single gene disorders affecting metabolic pathways. Individually, these disorders are rare; but they present clinically like common emergencies (e.g., neonatal sepsis and seizures). Correctly identifying these conditions is lifesaving. Excluding a metabolic disorder requires specific biochemical genetics (BCG) tests which evaluate several disorders at once, including ultra-rare diseases. An increasing number of BCG tests are done by mass spectrometry, providing increased throughput and improved analyte sensitivity and specificity. Developing clinical testing for metabolic disorders, especially ultra-rare disorders, can be challenging.
Originally presented on August 1, 2017 in San Diego, California.
---
Lecture Presenter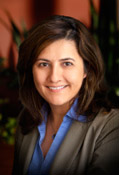 Irene De Biase, MD, PhD, FACMG
Medical Director, Biochemical Genetics and Newborn Screening
ARUP Laboratories
Assistant Professor of Pathology
University of Utah School of Medicine

Irene De Biase, MD, PhD, FACMG, is a medical director of Biochemical Genetics and Newborn Screening and an assistant professor of pathology at the University of Utah School of Medicine. She received her MD and PhD in cellular and molecular genetics from Federico II University in Italy, and served as a postdoctoral fellow in molecular genetics at the University of Oklahoma Health Sciences Center and in clinical biochemical genetics at the Greenwood Genetics Center.
---
Sponsored by:

University of Utah School of Medicine, and ARUP Laboratories