ASCP Histotechnician/Histotechnologist Exam Preparation
This brief presentation will provide guidance and study strategies in preparation to successfully pass the ASCP Histotechnician (HT) and Histotechnologist (HTL) certification exams.
---
Originally published on July 19, 2022
---
Lecture Presenter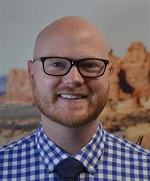 Derek Bradshaw, HTL (ASCP)
Histotechnologist II
ARUP Laboratories

Derek Bradshaw obtained his Bachelor of Science in environmental sciences from Brigham Young University and is certified as a histotechnologist (HTL) by the American Society for Clinical Pathology (ASCP). Derek is currently a histotechnologist in the immunohistochemistry laboratory at ARUP Laboratories. Prior to working for ARUP, he was a lab technician and histotechnician.
---
Sponsored by:

University of Utah School of Medicine, Department of Pathology, and ARUP Laboratories