AACC 2019 Booth Presentation: The True Life Story of Automating a Hospital Laboratory
---
Originally presented on August 7, 2019 in Anaheim, California.
---
Lecture Presenter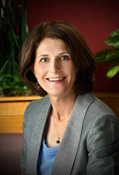 Jo D Fontenot, MS, MT(ASCP)
Division Manager, University Division
ARUP Laboratories

Jo D Fontenot MS, MT(ASCP) received her B.S. and M.S. degrees from the University of Utah in Medical Laboratory Science. She is a Technical Vice President and Division Manager for the University Division for ARUP Laboratories. In this role she oversees the management of 4 hospital and community clinical laboratories, transfusion services, blood donor services, and support services. Jo D is also a Retired Navy Commander in the Medical Service Corps. She has lectured at regional and national CLMA meetings and she has presented workshops in Point of Care Testing for ASCP.
---
Objectives
After this presentation, participants will be able to:
Sponsored by:

University of Utah School of Medicine, Department of Pathology, and ARUP Laboratories